Upcoming Events
RagaChitra 15th Annual Day!
3:30 p.m. – November 23, 2019 (Saturday)
Venue:  Kerala Center, Elmont, NY 11003.
More details: RagaChitra.org/annual_day
Bharathanatyam and Bollywood Dance!
February 9, 2019 (Saturday) – 3 p.m. to 4 p.m.
Venue:  Queens Library, Sunnyside,  43-06 Greenpoint Avenue,  Long Island City, NY , NY 11104
RagaChitra Fine Arts presents a program of Bharathanatyam, the South Indian classical dance which originated
in the Hindu temples of Tamil Nadu, followed by a performance of Bollywood dance, which mixes various
forms of Indian classical dance, Indian folk, belly dance and more.
Bharathanatyam
Damir Tasmagambetov
Karthiga Devi Veeramani
La'Toya Latney
Sloka Iyengar
Bollywood Dance
Rithika Selvaraj
Srinidhi Chinnadurai
Saranya Kataru
Samyuktha Kataru
Soumya Akula
Aarika Maharishi
Aanchita Agrawal
Sharanya Shanmugavel
Past Events
RagaChitra students participated in Papanasam Sivan Music competitions 2018 in various cities in USA.
Congratulations to all the winners!
Chicago
1st Prize-Vocal – Solo-Adult
Srujana Annapurna Thimmavajjala
Atlanta
3rd Prize-Vocal -Group-Juniors
Aditi Nimishakavi
Nithya S Suravarapu
Srujana Budamagunta
Maryland
1st Prize-Veena – Group-Adult
Aparna Venkatakrishnan
Soumya Ranganathan
New York
1st Prize-Vocal -Group-Juniors
Anwita Sajja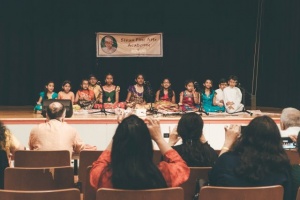 Arnav Akula
Chaitra Mynampati
Meghana Divi
Pranav Akula
Nishita Srirama
Priscilla Rajan
Sharanya Shanmugavel
Soumya Akula
Tanusri Reddy
Yashwin Sajja
1st Prize-Vocal -Group-Adult
Akilandeswari S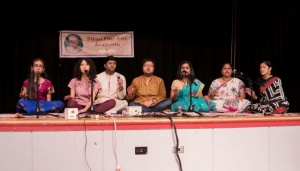 Anand Gopalan
Anuja Magar
Karthiga Veeramani
Mili Raghavan
Samyuktha Shivraj
Subhabrata Das
1st Prize-Veena -Solo-Adult
Anand Gopalan
1st Prize-Veena -Group-Juniors
Anagha Ramkumar
Chaitra Mynampati
Raghav Ramkumar
2nd prize-Vocal-Solo-Junior
Mili Raghavan
3rd prize-Vocal-Solo-Junior
Latika Prasadh
Meghana Divi
Thirukural at the unveiling of Thiruvalluvar Statue
May 12, 2018 at Tamil Christhava Kovil, Middle Village, NY
RagaChitra Ensemble, led by Nivedita ShiviRaj performed a few verses (Kural) from Thirukural on the occasion of the unveiling of Thiruvalluvar Statue, the first of it's kind in the US.  Music was composed by Nivedita ShivRaj.
Vocalists
Nivedita ShivRaj
Samyuktha ShivRaj
Anand Gopalan
Akilandeswari S
Anuja Magar
Karthiga Veeramani
Sai Vaishnav Chadalavada
Sloka Iyengar
Subhabrata Das