Online Thirukkural Music Course
About Thirukkural
Thirukkural, the ancient Tamil non-religious, poetical treatise on code of ethics for life, was authored during the Sangam period of South India, around 2nd century BCE and consists of 1330 rhyming Tamil couplets that codifies valuable lessons for life with principles that are universal to mankind through time immemorial. Thirukkural, a masterpiece of Tamil literature was authored by poet Thiru Valluvar, has been translated in 82 world languages, are time immemorial.
Online Thirukkural Music Course
RagaChitra is proud to offer lessons to sing Thirukkural, set to music, as an online course.
The course consists of several modules and each module will cover one chapter of  10 couplets or verses. Each module will be offered as a separate course.
Duration of Each Course and Each Class
Each module will consist of FIVE class sessions (classes) of 30 minutes of duration. Classes will be offered once a week.
Course Eligibility
The couplets are set to music in a simple style. Anyone with a passion to learn Thirukkural and music is eligible to enroll! Learners of all ages, with or without knowledge of carnatic music, will find this course interesting and useful. Knowledge of Tamil language is not necessary as the course material includes Thirukkural couplets and explanations in English and Tamil.
Course Modules
Current Course:
Module 1 –  Kadavul Vazhthu – Invocation – Chapter 1 – 05 April, 2020 to 03 May, 2020
Schedule for the following modules will be announced
Module 2 – Anbudaimai – Love – Kindness – Chapter 8
Module 3 – Eegai – Charity – Chapter 23
Module 4 – KaLLaamai – Absence of fraud – Chapter 29
Module 5 – Vaaimai – Truthfulness – Chapter 30
Module 6 – Inna Seyamai – Non-Violence – Chapter 32
Module 7 – Arivudamai – Wisdom – Chapter 43
More modules will be added and updated.
Course Director
Thrukkural music course is taught by Nivedita ShivRaj.
Nivedita ShivRaj is a pioneer and professional musician in carnatic music. She composes original music and leads the award-winning world music/carnatic jazz band "Charanams". Nivedita ShivRaj is a favorite carnatic musician in the USA and has presented concerts in prestigious stages and events, including New York Lincoln Center, Brooklyn Museum of Arts, New York Botanical Garden, and Carnegie Hall. She has been in the panel of judges in Queens Council on the Arts and is the first and the only carnatic musician to have been awarded the coveted Con Edison Residency for original carnatic music compositions.
See this page to learn more about Nivedita ShivRaj.
Course Material
Course material for this course includes lyrics for couplets in both English & Tamil and audio recordings.
Course Fee
Fee for each module is $75 for all five sessions of the module.
Class Schedule
Module 1 –  Kadavul Vazhthu – Invocation – Chapter 1
Sundays – 10 am EST / 9 am CST / 8am MST / 7 am PCT
April 05, 2020 to May 03,  2020.
$75Add to cart
Confirmation email for registration will be sent by Ragachitra in 2 business days.
Module 2 – Anbudaimai-Love-Kindness-Chapter 8
Sundays-10 am EST/9 am CST/8am MST/7 am PCT
10, May, 2020 to 28 June,  2020
Schedules for other modules will be updated shortly.
Internet and Device Requirement for the course
This is an online course and classes are offered on Google Hangout Meet.
Students will need:
a reliable internet connection
suitable device such as a PC, laptop or tablet
gmail id to sign up for lessons
Music for Thirukkural
Music for the Thirukkural verses has been composed by vocalist and vainika, Nivedita ShivRaj. The Kurals are set to music based on carnatic ragams . In the year 2016, Nivedita ShivRaj won the individual grant award, from the Department of Cultural Affairs, NYC, through Queens Council on the Arts, spearheading the project of composing music for Thirukkural.  This is an ongoing project.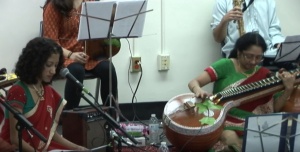 (See this video of Thirukkural presented  by Nivedita Shivraj) for QCA Project and this video of Thirukkural at Tamil Church on the occasion of unveiling of the first Thiruvalluvar Statue in the USA.)