Carnatic Vocal Music Classes, Lessons
At RagaChitra Fine Arts, we passionately offer music classes and lessons for carnatic vocal music.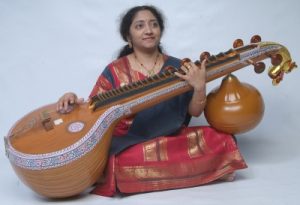 Founded and mentored by Artistic Director Nivedita ShivRaj, RagaChitra Fine Arts has been promoting carnatic music in the USA for more than a decade. We have also been offering carnatic music lessons to hundreds of students in the USA, Canada, Singapore, Australia and other countries. Our students, ranging from 5 years of age to 75, learn and practice carnatic music in a methodical way and proudly participate and present carnatic songs in events, festivals and celebrations.

Nivedita ShivRaj is a pioneer and professional musician in carnatic music. She composes original music and leads the award-winning world music/carnatic jazz band "Charanams". Nivedita ShivRaj is a favorite carnatic musician in the USA and has presented concerts in prestigious stages and events, including New York Lincoln Center, Brooklyn Museum of Arts, New York Botanical Garden, and Carnegie Hall. She has been in the panel of judges in Queens Council on the Arts and is the first and the only carnatic musician to have been awarded the coveted Con Edison Residency for original carnatic music compositions.
See this page to learn more about Nivedita ShivRaj.
RagaChitra Fine Arts is guided by renowned carnatic musicians and our music lessons reflect our experience in composing and presenting carnatic music and carnatic jazzand colloborating with other styles of music.
Our music classes impart methodical, intensive training to students to attain proficiency in carnatic music. Classes are structured to include carnatic music theory, voice exercise, and voice training.
RagaChitra Classes are not just for students aspiring to become singers and instrumentalists, but for everyone who has a passion for carnatic music and would like to just sing or play some of their favorite bhajans and kirthanas (songs).
At RagaChitra, we share our love and passion for carnatic music with like-minded music lovers.
What music lessons do we offer?
We offer carnatic vocal music lessons in Wappingers Falls, NY and also online vocal music lessons for students in other locations in the USA and in other countries.
Our music classes impart methodical, intensive training to attain proficiency in carnatic music. Classes have been designed to include carnatic music theory as well.
What are the levels of music classes?
We offer basic, intermediate and advanced level music classes for all ages.
Where are class locations in New York?
Wappingers Falls, Dutchess County, New York.
How do we offer online lessons?
Online vocal and veena lessons are offered using Google Hangout, Skype and other state-of-the-art technologies. If you have an Internet connection, you may take our lessons on your laptop, ipad, tablet, cell phone or desktop PC from any part of the world. Our online lessons have been meticulously designed to be clear, effective and interesting – just like in-person lessons.
Who is the teacher for in-person and online lessons?
Both in-person and online lessons are taught by Nivedita ShivRaj, an award winning carnatic music teacher, guru.
What are the requirements to take online classes?
If you live outside of New York City, RagaChitra's online vocal and veena lessons are great ways to pursue carnatic music!
RagaChitra has been offering online music classes for over a decade now and have perfected the technology and methods to deliver clear and effective classes to all age groups. Some of our online students are as young as 6 and 7 year olds.
For online lessons, students need to have a PC or laptop or tablet and a stable Internet connection.
What are your class schedules?
Our lessons have been professionally designed and are generally offered for a duration of about 45 minutes each. Most students take lessons once a week. However, the lesson duration, schedules and frequency are structured based on specific needs of students.
How long is a typical course?
With hundreds of ragas and kirthanas (songs), carnatic music is extensive and intricate. Though the fundamentals can be learnt in a few months, it takes several years to learn and master carnatic music. Many of our students have been passionately learning with us for over 5 to 10 years!
We teach carnatic music fundamentals, ragas, kirthanas and singing techniques. Each raga and every kirthana has a significance to Indian traditions and Indian life. We explain all aspects of ragas and kirthanas, so the students understand and appreciate the importance.
While our music classes help students aspiring to become singers and instrumentalists, the classes also benefit students who have passion for carnatic music and would like to just sing or play some of their favorite bhajans and kirthanais.
If you are familiar with carnatic music and wish to learn this art form, we'll be able to structure a few basic lessons which will help you to understand carnatic music.
If you are not familiar with carnatic music, please see an overview of What is Carnatic Music and then call us.
Do I need to know any Indian language to learn carnatic music?
Well, carnatic kirthanas are composed in South Indian languages, such as Telugu and Tamil. Knowledge of these languages will be a plus. However, our students who were born outside of India and students of non-Indian origin – who do not read, write or speak Indian languages – learn and perform carnatic music just as well as students of Indian origin.
In order to overcome the language barrier, our notations and kirthana lyrics are in English which helps everyone.
Do you offer course material?
Yes! We have specially-designed, extensive notation sheets for all lessons. In addition, students also have access to audio recordings of lessons to review and practice.
Do students get performing opportunities?
Yes! During RagaChitra Annual Day – which usually happens in the Fall every year in New York – all students showcase their carnatic talents. Students who live in other location also participate in this unique event via Internet! Besides invited audience, the annual day is telecast LIVE and hundreds of people watch world over.
Students also get performing opportunities at various levels in community events of Indian associations and festivals of Indian temples.
On achieving a certain level of proficiency, students are offered opportunities to perform in RagaChitra Carnatic Choir and RagaChitra Veena Ensemble.
What are the fees for music lessons?
Our fees for music lessons are very nominal and are based on levels and schedules.
What modes of payment are accepted?
We accept payments by cash, checks, paypal, and credit / debit cards.
How to enroll for RagaChitra music classes?
Please contact us and we'll be happy to help you and register for a suitable class.